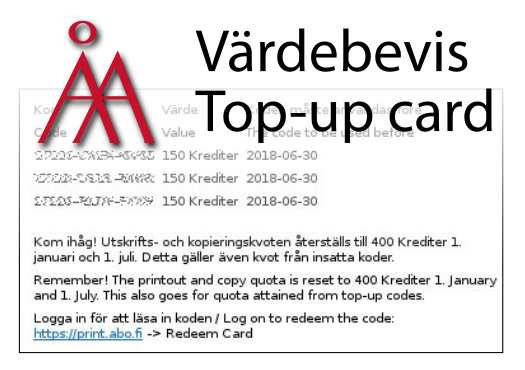 Top-up code for printing and copying
One digital top-up card with a value of 150 credits to be used to top up your printing and copying quota.
Observe! Top-up cards can only be used by holders of user accounts at Åbo Akademi University!
The top-up card will be delivered to your abo.fi-email automatically within half an hour. To redeem the card, go to https://print.abo.fi/user, choose "Redeem Card" to the left, fill out the form with the code(s) on the top-up card and click "Redeem Card".
The printout and copy quota is reset to 400 credits 1. January and 1. July. This also applies to quota attained from top-up cards.
Please send questions and feedback regarding printing and copying to helpdesk@abo.fi / +358 2 215 4777.
Product Code: värdebevis kopiering